Jan 15, 2019 12:00 PM
Club Business + Komen Snowshoe for the Cure
Club Business
Join us for our weekly lunch meeting Tuesdays in Breckenridge at Fatty's Pizzeria (106 South Ridge Street) 12pm MT.
Let's get down to business! Looking forward to hearing about the prior week's events, Ullr Community Shot & Big Beers.
---
---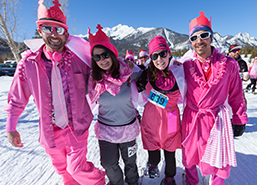 Note: Courtney LeDuc will be joining us to speak briefly about the Komen Snowshoe for the Cure. Susan G. Komen Colorado's Snowshoe for the Cure will bring over 1,000 supporters together at the Frisco Nordic Center in a truly unique fundraising event that combines the community's philanthropic spirit with Coloradans' love for the great outdoors – all in an effort to combat the most frequently diagnosed cancer worldwide. This signature event is close to our hearts because our research finds that women and men experience greater barriers to screening and breast caner treatment that live in resort / rural communities.
Snowshoe for the Cure is a fun event, but the need is serious. 100% of Snowshoe for the Cure donations (and registration fees for this event) benefit Susan G. Komen Colorado's mission to save lives by meeting the most critical needs in our communities and investing in breakthrough research to prevent and cure breast cancer.
Some notes: There is a 5k, 3k, and a "Little Stomper Dash" for kids. There will be a DJ, food, etc.